We can help you to get back on your feet again…
And make the recovery process easier.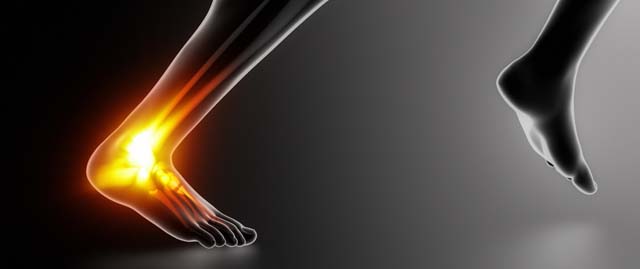 Ankle joint

The ankle is the most hard-working joint of the human body. It carries the weight of the entire body and has to cushion every step, as well as establish balance when walking. It appears to be very flexible, but it is more like a hinge than any other form of joint. Slight overstretching can therefore cause significant damage. The ankle joint is particularly exposed to danger during sport.
ORTHOmedic is here to care for your acute injuries, chronic diseases and to restore your mobility. On this page you will find an overview of the most common ankle joint problems and some examples of how these can be treated. Many surgical procedures on the elbow can be carried out via arthroscopy. ORTHOmedic is specialised in this minimally invasive procedure. Your ankle joint expert here at ORTHOmedic is Professor Markus Schofer.
Ankle arthrosis
There are just two millimetres between being healthy and becoming completely inactive. Because that is roughly the size of the cartilage in the ankle joint. The cartilage can deteriorate, become uneven, and wear right down to the bone, until the joint becomes blocked. If diagnosed early enough, arthrosis can be slowed down or stopped altogether, for example through the regeneration of new cartilage. At a more advanced stage, only artificial induction of the joint (arthrodesis) or an endoprosthesis are effective treatment methods.
Torn ligaments (rupture of the lateral ligament structure)