Patients with severe fractures are in safe hands
at ORTHOmedic.
But we're also here to help with a variety of other issues.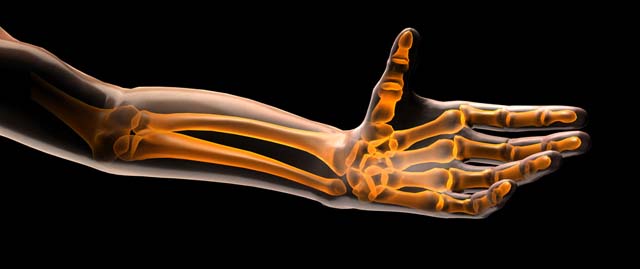 The hand

Our hands are among the most valuable body parts we have. And that's not just the case for those, like star pianist Lang Lang, who insure their hands for a hefty sum (30 million euros!). The feeling of not being able to do something with your own hands is often more painful than the injury or disease itself.
Our team at ORTHOmedic is on hand to help you get back to your everyday life after suffering an injury or being diagnosed with a disease of the hand. These valuable tools, each made up of 27 bones, 33 muscles and a complex tendon structure, are incredibly intricate from an orthopaedic perspective, despite how powerful they are. Hand surgery requires specialist knowledge, carried out with state-of-the-art equipment. You can rely on the ORTHOmedic team's surgical precision, acquired through hundreds of arthroscopic procedures on all of the joints in the human body.
Fracture treatment
Falls, work-related injuries and sports injuries are the most common causes of broken fingers or joints. Many fractures can be treated with conservative therapy, i.e. with a plaster cast or physiotherapy. Comminuted bone fractures, or cases in which the bones have shifted too far to be able to redirect from outside, however, require surgery. One possible procedure is to join the ends of the bones together with titanium implants, plates or screws.
Trigger finger (stenosing tenosynovitis)
Carpal tunnel syndrome (CTS)