Major knee problems
are no match for our team's expertise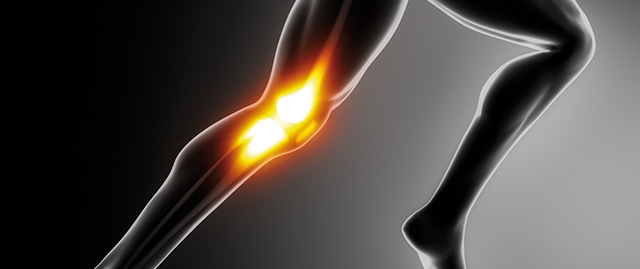 The knee joint

The largest joint in the human body is also the joint that is most commonly operated on. Some of the most common causes for problems are sports injuries, including damage to the meniscus and cruciate ligaments. But each knee is different. Even with our extensive experience, having carried out over 300 knee operations per year, it is not possible to assign standard treatments for the various problems patients suffer from.
Knee problems are demanding from both an orthopaedic and psychological perspective. At ORTHOmedic, we are often able to dispel many of the fears our patients experience as sportspeople with concerns about practising their hobby or professionals who are keen to get back to work. You can count on our team at ORTHOmedic to competently carry out any necessary surgical procedures and provide a comprehensive follow-up treatment.
On this page you will find an overview of the most commonly occurring problems that affect the knee joint. Aside from artificial joint replacements and axial adjustments, all operations are carried out via an arthroscopic procedure. ORTHOmedic is specialised in this minimally invasive procedure. Your expert for knee problems is Professor Schofer.
Torn meniscus
With a moderate tear, the meniscus can be treated by means of a suture anchor repair, for example, which is sufficient to hold the meniscus together. If, however, the meniscus is severely torn, it will need to be removed by means of a partial meniscectomy. To prevent arthrosis, a meniscal transplant procedure may also be carried out. Generally speaking, we carry out this common form of knee surgery via an arthroscopy.
Cartilage refixation and transplantation
Osteochondronecrosis (bone loss)
Reconstruction of the cruciate ligament
Patellar luxation (dislocation)
Osteotomy (axial adjustment)